WFC – Chirnside Park is a multi-level fitness centre, which specialises in martial arts. Under qualified and world-class instructors we offer Muay Thai, boxing, strength and conditioning, Pilates, and yoga. Our proven system, combined with our 1st class facility of 3 dedicated training rooms allows you to achieve new heights with your fitness goals. Our gym and strength and conditioning room are fitted out with cardio equipment, both pin and plate-loaded machines, free weights, and a powerlifting area, which allows you to work out for all your health and fitness needs.
The main martial arts training area is full of pads, hanging bags, and an Olympic size boxing ring. Mix this area with our full martial arts timetable and it full fills your needs either as a beginner or a professional fighter. Our specialised air-conditioned and heated Pilates and yoga room gives you full comfort while improving your flexibility or core strength, to perfectly compliment all of your training goals.
Want more info on our martial arts programs or gym?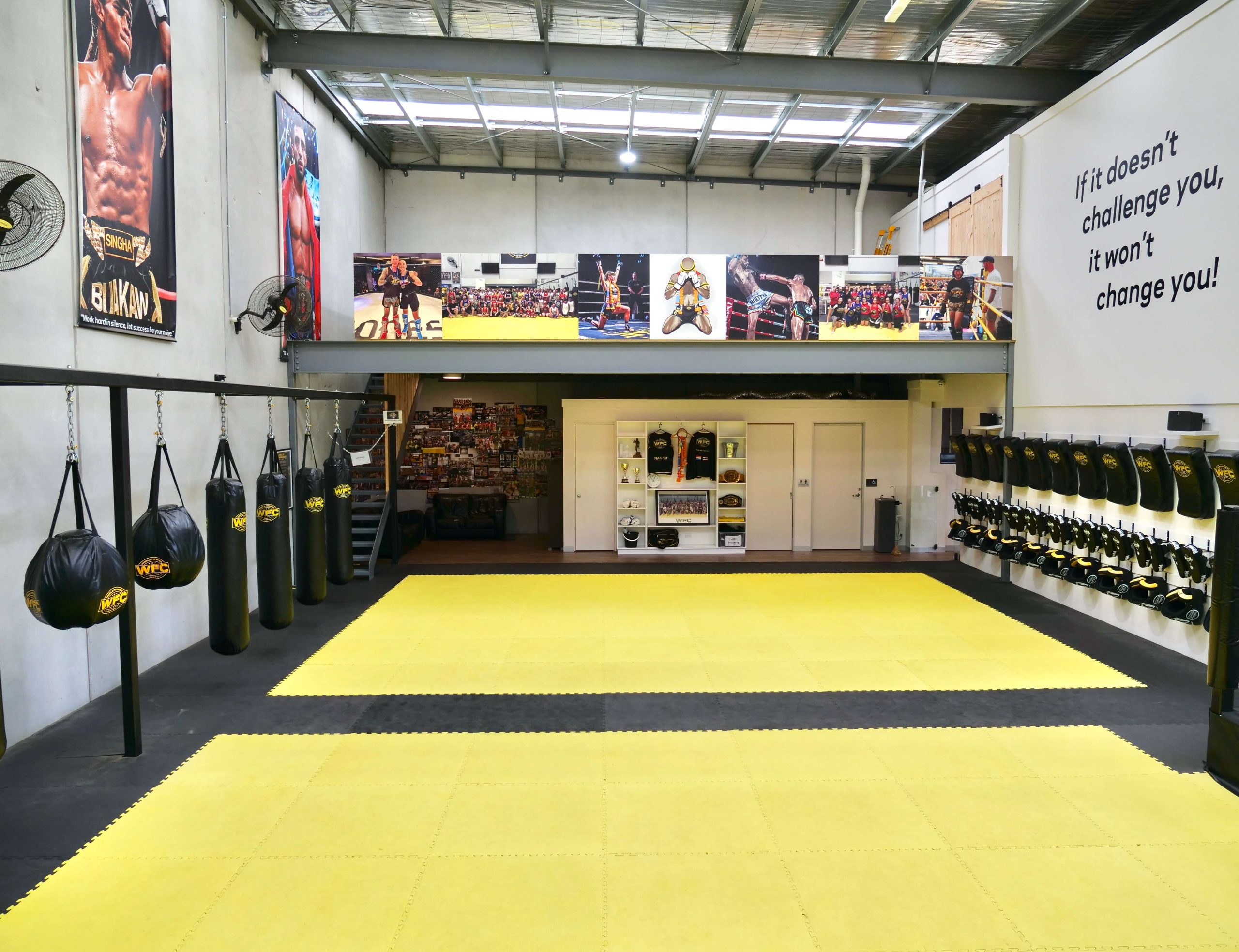 3 Matted Training Areas
Olympic Size Boxing Ring
12 Muay Thai Heavy Bags
Functional Training Inc Kettlebells, Slam Balls, Battle Ropes Etc
Cardio & Weights Area
Member Lounge
Infrared Sauna
What is Muay Thai?
Muay Thai is the art of eight limbs. Under the accredited watchful eyes of our coaches, you will learn how to kick, punch, knee, and elbow.
Learning these skills while also burning calories in the highest proven form.
Learn the best form of stand-up striking, to improve your fitness, have as self defence, or take it to a fighter's level.
Never trained Muay Thai before?
No problem. We run regular Muay Thai Bootcamps for absolute beginner's which is the best introduction to Muay Thai training. In small private groups run over 4 weeks you will learn step by step the basics of Muay Thai while you increase your fitness in a fun, friendly environment with like minded beginners that are new to Muay Thai. Perfect for any fitness level and it will prepare you with the skills and fundamentals to continue your training in our popular Muay Thai program.
Want to get started? Book your spot in the next Bootcamp today!
Our boxing program is led by our main coach, who has trained alongside Olympic boxers. Here you will improve your speed, agility, endurance and recovery.
Our boxers work, drills, padwork, defence, and striking to continue to improve their skills, fitness, and strength all while learning the fine details of this historic sport of boxing.
Our kids program is the perfect balance of learning self-defence, and allowing your kids to grow in confidence whilst in a fun environment and getting fit.
With the modern day world of gaming, tech etc, it's the perfect 45 mins blast for your kids to get moving with an old school touch of martial arts .
We offer a two week unlimited trial for kids to come in and join as many classes as they like. This is the best way to see if your child will enjoy the training and really benefit from what we have to offer. The unlimited two week kids trial is only $49 – For more info tap the LEARN MORE button below.
Our yoga team is specifically taught to relax your mind as well as enhance your flexibility all within our fully airconditioned or heated facility depending on the weather.
This class is also the perfect compliment to enhance your flexibility for Muay Thai, or simply just have it as a de-stress.
Pilates is all about improving your core strength. Holding poses for long lengths of time enhances your body's muscle strength, stability, and balance.
One of the harder classes on our timetable and underrated on what it brings to improve so many aspects of your health as well as balancing it out with your Muay Thai training.
DANIEL DEN BRABER
HEAD COACH
TIM DULLAGAN
BOXING COACH
JARROD HOWELL
STRENGTH AND CONDITIONING
MARLON MORABITO
MUAY THAI & PERSONAL TRAINING
ERIN PARKER
PILATES
JOSH THOMAS
MUAY THAI
CALE HOLLINGWORTH
MUAY THAI
JACKSON KOOPMANS
MUAY THAI
GILMAHR MAMBANE
BOXING & BEGINNERS MUAY THAI PROGRAM
MEGAN MCKENZIE
STRENGTH AND CONDITIONING
ERIN CARTER
MUAY THAI & PERSONAL TRAINING
WE'D
LOVE TO HEAR

FROM YOU
2 Belmike Close, Factory 2/38 Ramset Dr, Chirnside Park VIC 3116

0460 293 006